Depending on how you drive here in the Mount Pocono and Tobyhanna areas, you shouldn't need to get your tires aligned very often. Nevertheless, detecting the signs and promptly doing so can greatly impact your car's performance.
The Ray Price Chrysler Dodge Jeep Ram team is here to help Stroudsburg, Scranton, and East Stroudsburg drivers stay on top of this crucial bit of tire maintenance.
What Causes Your Car to Need a Tire Alignment?
In general, you should only need to get your wheels re-aligned every two or three years. And most mechanics recommend that this is done when you have new tires installed, to ensure that they wear evenly.
Still, factors such as the bumpiness of the roads in your area, as well as your own driving habits, can accelerate the process. Here are the signs to watch for when your alignment is due:
1. The vehicle pulls to one side when you stop.
When you come to a complete stop, you may find that your car seems to veer to one side of road. Your steering wheel, too, will pull to one side instead of stopping at dead center. This is one of the top signs that your wheels are out of alignment.
2. The steering wheel is never straight.
Just as the steering wheel pulls to one side when you come to a complete stop, it may never be completely straight while the car is in motion.
3. Your tires are wearing rapidly.
When the wheels are out of alignment, an unnecessary amount of pressure may be placed on one side of the vehicle. This can cause your tires to wear unevenly and at a rapid pace.
4. The steering wheel shakes or vibrates.
When your car is out of alignment, you may find that your steering wheel shakes or vibrates as you drive. This may become especially bad as you drive at a higher speed.
5. Your tires are squealing.
We typically associate that unpleasant squealing sound with our brakes (specifically worn brake pads). However, it's another big sign that your tires are out of alignment, too.
What Can You Do to Protect Your Alignment?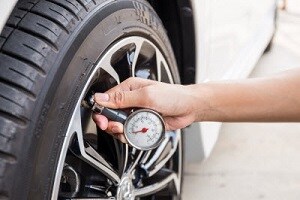 Uneven roads and even time itself will throw your tires out of alignment. However, following these few driving tips can really help to lengthen service intervals.
Remove unnecessary weight from your trunk. If the rear of the car sags, the tire angles will be thrown off. Naturally, so will the alignment.
Avoid potholes. Sometimes, this is hard to do when it's late at night and the roads are bumpy. Know that extra strain on the suspension will wreck your alignment.
Maintain good tire pressure. If your tires are uneven, even a smooth road will feel a bit off kilter. That's going to harm your alignment, in the end.
Wheel Alignment Service near Me
When Mount Pocono, Tobyhanna, and Stroudsburg drivers start to notice any of the signs listed above, they ought to reach out to their nearest service center as soon as possible.
Ray Price Chrysler Dodge Jeep Ram is here to take care of all vehicles in the East Stroudsburg and Scranton areas and beyond. Contact us today to schedule your next tire alignment!