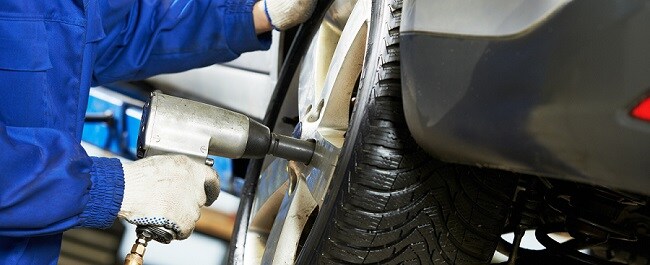 Tire rotations are one of the most frequently recommended services by car makers and professional technicians, right next to oil changes. You may be frequently told that these services matter, but do you know why?
Today, the technician team at Ray Price Chrysler Dodge Jeep Ram (CDJR) decided to lift the hood on this very question. Drivers in Mount Pocono, Tobyhanna, Scranton, Stroudsburg, and East Stroudsburg can find out more about why having your vehicle's tires rotated at a tire shop on a routine basis is so important below.  
What are Tire Rotations
When a tire rotation is performed on your vehicle, a technician will inspect your tires for wear and determine new wheel positions for your tires. A common tire rotation switch used for front-wheel drive vehicles sends the front tires straight back while the right back tire crosses over to the left front and the left back tire crosses over to the right front.
Related Post: How To Know When You Need a Tire Alignment
Extend the Life of Your Tires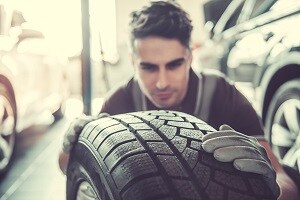 If you think about your daily drives, there's likely potholes, bumps in the road, or rough patches along the way. You may make more right turns than lefts during your normal routine, and vice versa. This all wears on your tires in a unique way, and some tires get more wear than others.
By changing up the wheel placements of your tires, tire rotations even out the amount of wear that individual tires receive. With regular tire rotations, your vehicle's tires are likely to last much longer, so you won't have to replace them nearly as often.
Maintain Traction & Safety
Your tires play a big role in the overall drive feel of your ride, whether it's a Ram 1500 or a Jeep Cherokee. Regularly rotating your tires at every oil change interval ensures that your car is able to maintain grip while on the road.
When the roads around Mount Pocono are slick with rain or sleet, tires that are taken care of will provide steady traction. If one or more tires is more worn than the others or has lost its sense of grip, your vehicle may be in for a rougher ride or more likely to slip in inclement weather.
Improve Fuel Efficiency

Your vehicle's systems and parts all work together to produce a smooth and powerful drive. If one area is underperforming, another will step in to compensate-such is the case if you don't keep up with tire rotations. With one or more tires lacking tread life, your vehicle's engine has to work just a little harder to get your car operating as it should, and in turn uses more gas.
When your tires are maintained properly and your engine can rest a bit easier, your car can use fuel more conservatively.  
Schedule Tire Service
Regularly rotating your tires can not only give you peace of mind and better performance from your vehicle, but it also adds up to more cost savings for you in the long run.
We hope this exploration into tire rotations helped you understand the importance of this preventative maintenance service!
If your car, truck, or SUV is due for a tire rotation, the knowledgeable team at Ray Price CDJR can help you out with prompt, expert service. Mount Pocono, Tobyhanna, Scranton, Stroudsburg, and East Stroudsburg, PA, area drivers can schedule a service appointment online today!