Do you know the difference between synthetic vs. conventional oil? Do you know which one is the better choice for your car? The folks here at Ray Price Chrysler Dodge Jeep Ram want to ensure our neighbors in Mount Pocono, Tobyhanna, Scranton, Stroudsburg, and East Stroudsburg are well-informed when it comes to the performance and well-being of their vehicles.
That's why we've put together the following information regarding synthetic and conventional oil. We want to make sure you know the facts, so you can make an informed decision when choosing which one is right for you. Continue reading to find out the importance of oil, the origins of the two different kinds, and the benefits of each.  
Why Motor Oil Is Necessary
Your engine has a lot of active parts inside working hard to keep it performing at a high level. This kind of activity produces a lot of friction. One of oil's chief purposes is to reduce this friction in order to regulate the temperature inside the engine and keep it from overheating. Oil also keeps everything clean and well lubricated, so they're protected from the normal wear and tear that accumulates over time.
The Difference Between Synthetic vs Conventional Oil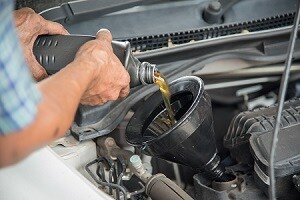 Although the two main types of oil may not have a lot in common, one thing they do share is the fact that they are both derived from crude oil. The next step is where the differences begin. Conventional oil is distilled and refined from the original crude using traditional methods. This is not the case with its synthetic counterpart. Synthetic oil is engineered on a molecular level using various chemical compounds to alter its basic makeup.
Synthetic Oil's Benefits
One major benefit of using synthetic oil is the fact that its robust nature allows it to stand a better chance of holding up to extreme conditions. This means, whether it's sweltering or downright frigid out, you can be sure your engine will continue to perform at the same level you've come to expect.
Another result of synthetic oil's molecular engineering is its longevity. It can commonly last anywhere between 6,000 and 7,500 miles before needing to be changed as opposed to the 3,000 to 5,000 miles required by conventional oil.
This fact means it is considerably more effective at keeping your engine clean. This is because as oil gets older, it begins to break down. When this occurs, it starts to collect debris from all over the inside of the engine until a harmful sludge develops that stands the chance of causing serious damage. Synthetic oil's prolonged lifespan allows it to delay this inevitability.  
The Advantages of Conventional Oil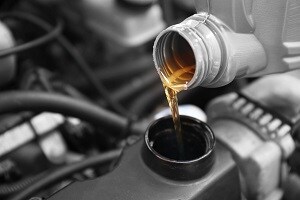 All of the above benefits make synthetic oil the lubricant of choice for newer vehicles. On the other hand, conventional oil is commonly preferred to be used in the older ones. While synthetic oil is designed for newer engines, they're not specifically designed for the older engines. Consequently, an older engine would not benefit as much from synthetic oil.
There are additives for conventional oil that can boost its overall performance. This includes longevity as well as withstanding adverse conditions. Moreover, depending on the nature of your regular drives, conventional oil may be all you need. For example, if your commutes are not too strenuous in terms of traffic and length of time spent on the road, conventional oil can be all your engine needs.
Remember to Have Your Oil Changed on a Regular Basis
If you're in Mount Pocono, Tobyhanna, Scranton, Stroudsburg, or East Stroudsburg and you have any questions about the benefits of synthetic or conventional oil, contact Ray Price Chrysler Dodge Jeep Ram and schedule your appointment today. It doesn't take long to get an oil change with our trusted professionals! If you'd also like to discuss which oil is the ideal lubricant for your engine or need to set up your next oil change, we'd be happy to help, too!