When it comes time for you to purchase a used car for your commutes around Mount Pocono, Tobyhanna, Scranton, Stroudsburg and East Stroudsburg, you'll soon discover that your options are almost limitless. With such a large selection of makes, models, trim levels, and features, you may find that you need some help choosing a model that's just right for your particular needs on the road. To help you navigate the process, our team at Ray Price Chrysler Dodge Jeep Ram has compiled this helpful used car buying checklist. When you follow all the steps highlighted in the checklist, you'll be ready to make a purchase that you'll love for years to come.
What You'll Learn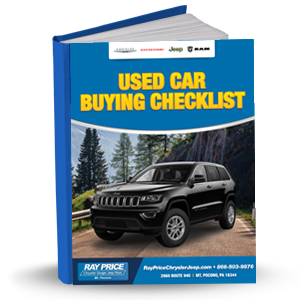 Inside this checklist, you'll find a variety of things to consider before buying a used car, plus helpful tips and advice as to how to make sure you're getting a fantastic car. Here's some of the things you'll learn:
How to budget for your purchase
What to look for inside and outside of the vehicle
How to choose a dealer
How to negotiate on price
And much more!
Once you've read through this guide, you'll be an expert on the process of purchasing a used car, and you'll be equipped to begin your search for a vehicle that's right for you. 
Ready to reveal the insider tricks of buying a used car? Simply fill out the form on this page, and download your free eBook now!