In this corner of the ring, a longtime leader of the full-size, light-duty pickup market, known for its power and refinement: the Ram 1500. And in that corner, the segment newcomer, recognized for its smooth ride and versatility: the Nissan Titan.
How do the Ram 1500 and Nissan Titan compare? And, better yet, which one is the right fit for drivers around Mount Pocono, Tobyhanna, Scranton, Stroudsburg and East Stroudsburg? 
The truck experts at Ray Price Chrysler Dodge Jeep Ram created this Nissan Titan vs Ram 1500 comparison to help you answer both of those questions in full. Learn more below as the 1500 and the Titan go head to head!
Related Post: 2019 Ram 1500 Vehicle Review
1500 vs Titan: Truck Engine Specs  
Today's pickups tend to offer a slew of powerful equipment options, allowing shoppers in Stroudsburg and Wilkes-Barre to customize their everyday performance. The Ram 1500 and the Nissan Titan are no different.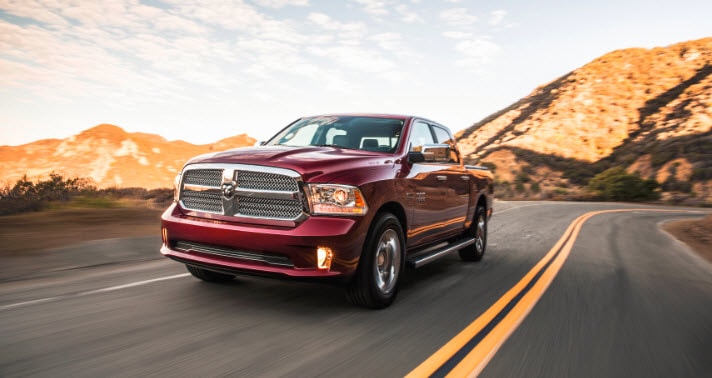 Comparing their starting V8 offerings:
Ram 1500 offers a burly 5.7L version with 395 horsepower and 410 lb-ft of torque on tap. 


2018 Nissan Titan's V8 is a slightly smaller 5.6L model that creates 390 horsepower and 394 lb-ft of torque.
Though these numbers keep things a tight race on paper, their differences become more pronounced in towing practice. When properly equipped, the Ram 1500 can securely tow up to 10,640 pounds, while the Nissan Titan maxes out with a 9,740-pound towing capability. 
Depending on what you'll be using your truck for, an additional 900 pounds could make the difference between one trip and two!
Cabin Space & Configurations
Built to be capable daily drivers and workhorses, both the Ram 1500 and the Nissan Titan come in various cabin configurations that allow you to bring as few as three people, or as many as six people along for the ride.
With similar cabin offerings, we decided to zero in on their front seat dimensions, as this would likely be your most-used space in the truck (besides the bed of course!). 
The Ram and the Nissan overdeliver here, both offering nearly 40 inches of headroom and 41+ inches of legroom in their respective front seats.
The new Ram 1500 provides a few more inches of hip room (62.9 inches vs. the Titan's 60.8 inches) for a bit more space side-to-side.
Nissan Titan vs Ram 1500: Utility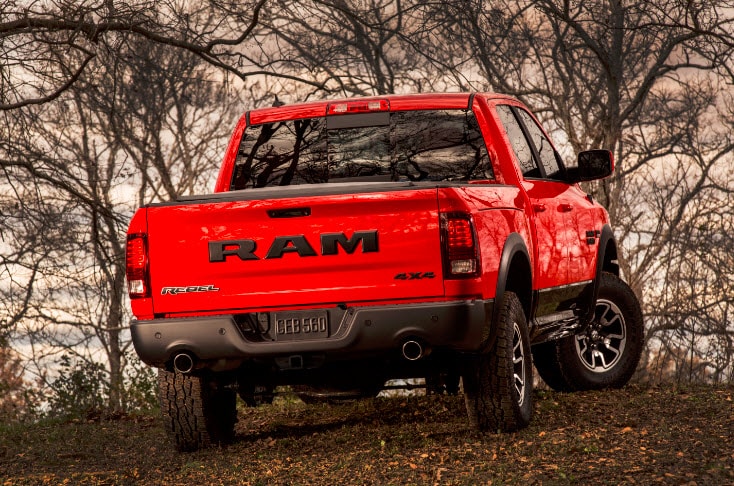 The 1500 and the Titan each offer three different bed length options to buyers. 
There's a short bed size (5-feet, 7-inches in the 1500 and 5-feet 5-inches in the Titan), a regular bed length (6-feet 4-inches vs. 6-feet 5-inches), and a long option (measuring 8-feet in both trucks).


With these two trucks, your choices when it comes to bed size are on-par, but each brand has their own unique storage options offered to help you secure and stow away cargo.


The Ram 1500 comes with its hallmark RamBox® Cargo Management System standard. 


This savvy feature converts your truck bed into a mobile toolbox with places to discreetly store tools or equipment in the side rails of the bed. 


These useful storage spots can be locked and unlocked using your key fob and are airtight so that weather won't ruin your tools and take-alongs.


While the Nissan Titan offers in-bed storage boxes, they don't come standard. Additionally, you'll have to factor their usage into your daily trips as they need to be installed when you'd like to store items, and uninstalled to use the full capacity of the bed.
Nissan vs Ram: The Verdict
We hope our pickup comparison got you up to speed on what the Ram 1500 and Nissan Titan have to offer! They're both gifted trucks for traveling Mount Pocono, Tobyhanna, Scranton, Stroudsburg and East Stroudsburg.
But, for truck seekers who want to haul it all, the Ram 1500's extra towing capacity, spacious cabin, and handy built-in bed storage helps you do so with even more confidence.
Interested in learning more about the Ram 1500? Check out the 1500 models we have in stock at Mount Pocono's own Ray Price Chrysler Dodge Jeep Ram. And when you're ready, schedule a test drive!