They say you never forget how to ride a bike, so why not put that lifelong skill to good use-and get a heaping helping of nature at the same time? If you want a fun way to spend a day (or five!), hit the trail at one of our top three Mount Pocono Biking Trails.
Pocono Biking®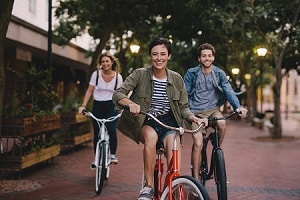 Pocono Biking® offers specialty biking trips through Lehigh Gorge State Park that can last a single day, or, you can keep the fun going for a five-day wilderness adventure! With so many distance options to choose from, and packages that include hiking and whitewater rafting, there's an itinerary to match every interest.
For a trip that takes the path less travelled, try the Waterfall Photo Bike Tour. This 23-mile tour includes three hours of walking and hiking as you explore waterfalls, vistas, canal ruins, and other natural wonders. This is a seven-hour adventure, so don't forget to pack a lunch!
Check them out on Facebook to see when their bike trains leave the station.
Blue Mountain Bike Park
Blue Mountain Bike Park is a must-see for any fearless mountain bike enthusiast. Located at Blue Mountain Resort, this bike park features 22 trails down the highest vertical in the foothills of the Pocono Mountains.
Think of it as skiing, but on two wheels. A high-speed Comet Quad Lift will hoist you back to the top of the hill, so you can speed down it again, and again, and again. Trails include:
Wild Turkey
Ewok Village
Chutes & Ladders
Loose Cannon
These trails offer enough variety for beginners and pros alike to find their favorite. They're open all weekend from May to October.
Visit Blue Mountain Resort on Facebook to learn more about the outdoor activities they offer year-round. 
Pocono Bike Rental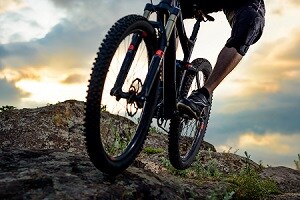 In addition to renting out modern, finely tuned bicycles, Pocono Bike Rental also offers bike tours along the Lehigh Valley Gorge.
They offer guided tours in the summer, or you can be your own guide as you enjoy the Fall Foliage Tours. These take you out to enjoy the autumnal color palette of the 127 varieties of trees you'll encounter along the way.
For an even more Zen experience, check out Yoga on the Bike Trail and enjoy a yoga practice in the middle of your three-hour ride.
Head over to their Facebook page for health and wellness news.
Hit the Trail Today!
If you're in the mood to move while enjoying the picturesque scenery of the Pocono Mountains, hit up any of these bike tours for an energizing day that'll leave you feeling rejuvenated. Make your reservations now to save your spot!