If you need a sturdy SUV to take you around the Mount Pocono, Stroudsburg, and Scranton areas, you have no shortage of options. From the Jeep Grand Cherokee to the Chevy Traverse and the Ford Edge, there are several popular models currently on the market.
Still, the team at Ray Price Chrysler Dodge Jeep Ram wanted to know which SUV was best suited to the needs of our customers in the East Stroudsburg and Tobyhanna areas, so we compared the Grand Cherokee vs. Traverse vs. Edge to get our answer.
Handling Capabilities in the Grand Cherokee, Traverse, and Edge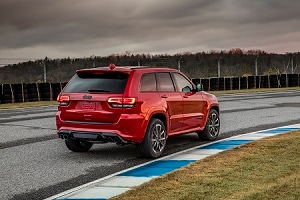 When we think about SUVs, the first thing that comes to mind is handling capabilities, and all three of these can take on tough terrain and rough winters. 
The Jeep Grand Cherokee, Chevy Traverse, and Ford Edge all make a smart all-wheel drive (AWD) or 4-wheel drive (4WD) system available, which actively monitors your conditions and redistributes torque as necessary to improve traction and efficiency.
The Grand Cherokee allows you to optimized even further with its available Quadra-Lift® Air Suspension system that raises and lowers the SUV's ground clearance to suit your needs. Choose Off Rode I or II to maximize handling and water fording capabilities. Select Aero mode to improve fuel economy and put it in Park mode to make it easier to enter and exit the vehicle.
Without this level of customization, drivers in the Traverse and Edge may find that their driving experience isn't as optimized as it could be.
Engine Power
SUVs are also known for their engine power, which the Grand Cherokee, Traverse, and Edge all bring. However, they also manage to balance that with efficiency by making a start/stop feature available. 
This feature turns the engine off when you come to a complete stop and powers it back up again when you move your foot the accelerator. The result is less fuel waste while idling.
When we look at engine power, however, we discovered some clear differences. We wanted to know what these SUVs were capable of, so we checked out maximum power output. The Chevy Traverse delivers an impressive 310 horsepower with its 3.6L V6 engine.
The Edge has a slight advantage here over the Traverse, putting out a maximum of 315 horsepower with its 2.7L EcoBoost® V6 engine. 
We found, however, that the Grand Cherokee has the most power to offer, generating 707 horsepower with its 6.2L supercharged V8 engine.
If you're looking for a positively thrilling ride, the Grand Cherokee is where you're most likely to find it.
Grand Cherokee vs Traverse vs Edge Smart Safety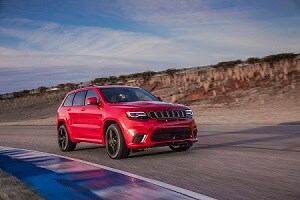 When it comes to getting around town, all three SUVs have technology features to help you do so safely and conveniently. 
The Grand Cherokee, Traverse, and Edge all feature an available forward collision mitigation system that alerts you to hazards up ahead and hits the brakes if necessary to help you avoid it.
The Edge and Grand Cherokee also save you from fiddling with the windshield wipers during a downpour with available rain-sensing wipers that automatically turn on and adjust to match the rate of precipitation.
The Jeep Grand Cherokee, however, combines these, offering a standard Rain Brake Support system. When the roads are wet, this system will automatically work to keep the brake rotors dry and improve braking ability on wet roadways. Without a similar feature, drivers in the Traverse and Edge may need to keep a wider following distance when it's raining.
Jeep Grand Cherokee vs Chevy Traverse vs Ford Edge: Our Winner
The team at Ray Price Chrysler Dodge Jeep Ram compared the Jeep Grand Cherokee vs. Chevy Traverse vs. Ford Edge and found that the Grand Cherokee has more to offer drivers around Mount Pocono, Scranton, and East Stroudsburg.
Want to try it out for yourself? Visit our dealership near Tobyhanna and Stroudsburg and we'll get you behind the wheel. Schedule your test drive of the Jeep Grand Cherokee today!