At Ray Price Chrysler Dodge Jeep Ram (CDJR), we love giving back to our Mount Pocono and Tobyhanna community by answering questions drivers have about the vehicles on our lot, navigating the car-buying process, and keeping their car running smoothly and efficiently.
One of the ways we do that for our East Stroudsburg, Scranton and Stroudsburg area customers is by creating deep-dive eBooks that we give away for free. That's right. FREE.
What You'll Learn in our eBooks
Each of our eBooks take a deep dive into a very specific subject area. Generally, they can be broken down into three types:
Buyer's Guides
A buyer's guide takes an in-depth look at one of the Chrysler, Dodge, Jeep, or Ram vehicles in our inventory. It breaks down need-to-know information, like the car's engine specs, handling capabilities, towing and payload capacities, safety features, infotainment systems, and more.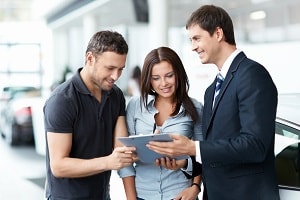 The goal of this is to help you be as informed as possible when entering our dealership for your first test drive, so you know exactly what to look for.
Educational Guides
Our educational guides walk you through the car-buying process. For example, they could be something like a used car buying checklist. Others may go into more detail about something like maintaining the purchase value after buying a used car, or how to decide to buy new or used.
How-To's
These eBooks will describe how to do something, like bleeding your brakes or changing your oil. Of course, we always recommend having the professionals in our service center do it, but we understand we have some DIY enthusiasts in the audience, so our eBooks will tell you how to do it right.
Download our FREE eBooks
For your convenience and reading pleasure, we've collected all our eBooks onto this page, so you have easy access to the information you need, when you need it.
We're happy to help our Mount Pocono and Stroudsburg area customers with their car-related questions. After all, it's what we do best!
If, after reading one of our FREE eBooks, you have a few questions, we encourage greater East Stroudsburg, Scranton and Tobyhanna area drivers to contact us at Ray Price CDJR today.