DOWNLOAD TO RECEIVE SPECIAL OFFER! 
Are you in the market for your next 5-seat SUV? We're guessing you've come across the innovative 2018 Jeep Cherokee, and our team at Ray Price Chrysler Dodge Jeep Ram is here to tell you all about it in our free eBook!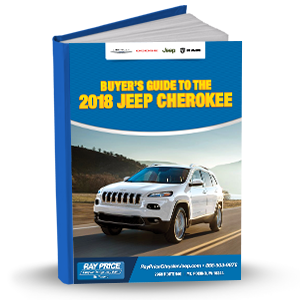 In our Buyer's Guide to the 2018 Jeep Cherokee, you'll find details like the following, and even MONEY SAVING COUPONS:
Which Cherokee engine suits your performance needs.
All about the Cherokee's five trims, including the off-road-ready Trailhawk.
What technology is available for connectivity, safety, and navigation.
And more! 
Ready to get started? Simply fill out the form on this page, and you'll immediately be redirected to your free Buyer's Guide to the 2018 Jeep Cherokee. DOWNLOAD NOW!