The Jeep Renegade is stylish without losing any of the ruggedness the Jeep brand is heralded for. Whether commuting or off-roading around Mount Pocono, Tobyhanna, Scranton, Stroudsburg, or East Stroudsburg, it's a pleasant SUV to drive. So, what's up with the 2021 model? What type of features and performance can you expect? We'll be laying it all out for you with our 2021 Jeep Renegade review.
We can't cover every facet of the SUV in this review, however. So, if you want to learn about specific trim levels for the Renegade or other topics we didn't cover, contact Ray Price Chrysler Dodge Jeep Ram!
Two Athletic Engine Options
If we start our 2021 Jeep Renegade review by peeking under the hood of the SUV, we'll find a choice of two potent engines. This is the first of many decisions you'll get to make regarding the Renegade, as Jeep is always looking to make their models as customizable as possible.
The smaller of the two motors doesn't sacrifice much power thanks to its turbo design. It's a punchy 1.3L 4-cylinder that generates 177 horsepower, 210 lb-ft of torque, and returns an EPA-estimated 24 city/32 highway MPG. The alternative motor is a 2.4L that makes 180 horsepower, 175 lb-ft of torque, and returns an EPA-estimated 22 city/30 highway MPG.
Enjoy Classic Jeep Off-Road-Readiness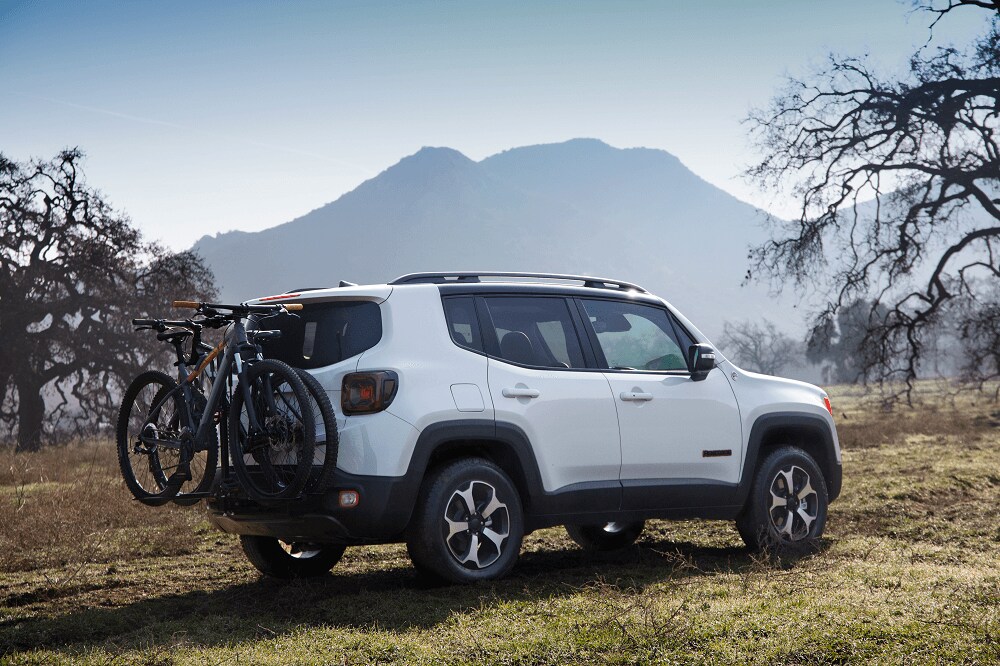 While a few steps behind stablemates like the Wrangler or Grand Cherokee, the Jeep Renegade still packs plenty of punch when you take it off the beaten path.
The off-roading technology centers around Jeep's famed Selec-Terrain® Traction Control system. If you opt for this technology, you can merely turn a knob along the dashboard to alter the driving dynamics of your new SUV. The modes are:
For increased stability, options like Hill Descent Control are handy. What Hill Descent Control does is monitor and alter throttle response, vehicle speed, and braking power as you slowly make your way up or down steep slopes.
Water fording and ground clearance are both buoyed by features such as a high air intake, sealed electrical connections, moisture-resistant body openings, and protective underbody components such as skid plates. 
Passenger Room and Cargo Space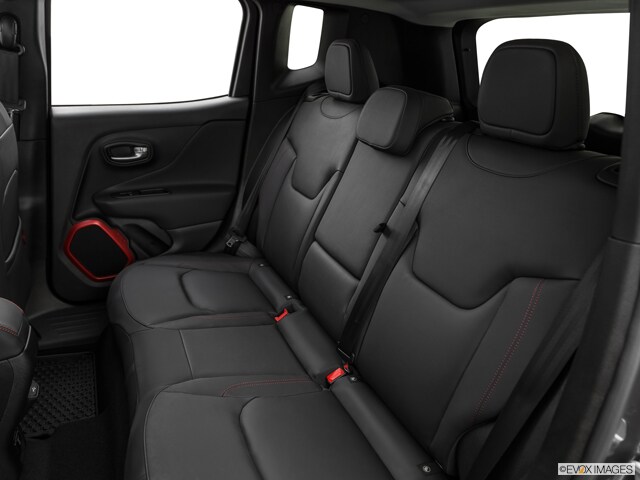 Two musts in any SUV are passenger room and cargo space. Jeep was able to craft an impressively roomy cabin for the 2021 Renegade without having to sacrifice the model's appealing, boxy shape.
Cargo space behind the 2nd-row seats measures 18.5 cubic feet, while the maximum cargo volume reaches 50.8 cubic feet. Key passenger measurements include 41.2 inches of front legroom, 35.1 inches of rear legroom, 41.1 inches of front headroom, and 40.5 inches of rear headroom.
2021 Jeep Renegade Review: Superbly Crafted
The refinement of the Jeep Renegade is noticeable as soon as you start driving it around Mount Pocono, Stroudsburg, East Stroudsburg, Tobyhanna, and Scranton. To see if this SUV is a fit for you, contact our team at Ray Price CDJR!